best before objects ︎︎︎ created from found materials, 2nd-hand goods and rubbish

Object 001 >urban seat cushion<
is for indoors and outdoors. Stackable, washable and lightweight. The filling is replaceable, also hygienic and natural. This object can even swim.
Best Before Object 001
>urban seat cushion>
This series of objects is created from found materials, 2nd-hand goods and rubbish. Things that people leave somewhere, sell or give away second-hand. Things whose value has not been fully appreciated.
It is obvious that we consume too much and throw away too much. But it is wrong to outsource responsibility to private individuals. Waste is a design flaw and a political failure. It is the result of corruption, greed and short-sightedness.
"More than 100 ships are said to have been sunk in the Mediterranean Sea with poisons and radioactive material on board."
Garbage disposal has become one of the main sources of income for many mafias. Estimated to be more than 50 billion euros annually. These dump the garbage in the sea or bury it. The toxic substances have been shown to increase the risk of cancer in the local population and destroy nature in the long term.
"As early as 1997, an ex-mafia boss testified that the Camorra in southern Italy stored toxic waste from all over Europe."
[Quote: Welt.de / google translated]
The idea was developed together with Studio Gianni Plus and is now being continued separately due to physical distance. Our shared lack of understanding for a throwaway society was confronted with extremely visible garbage during a time together in Barcelona. Valuable materials, curiosities, furniture and other objects could always be found on the streets. We decided to collect these treasures and bring them back to life. "Best Before" is intended to question how long things actually last. Why and when they lose their value. And when we finally appreciate them.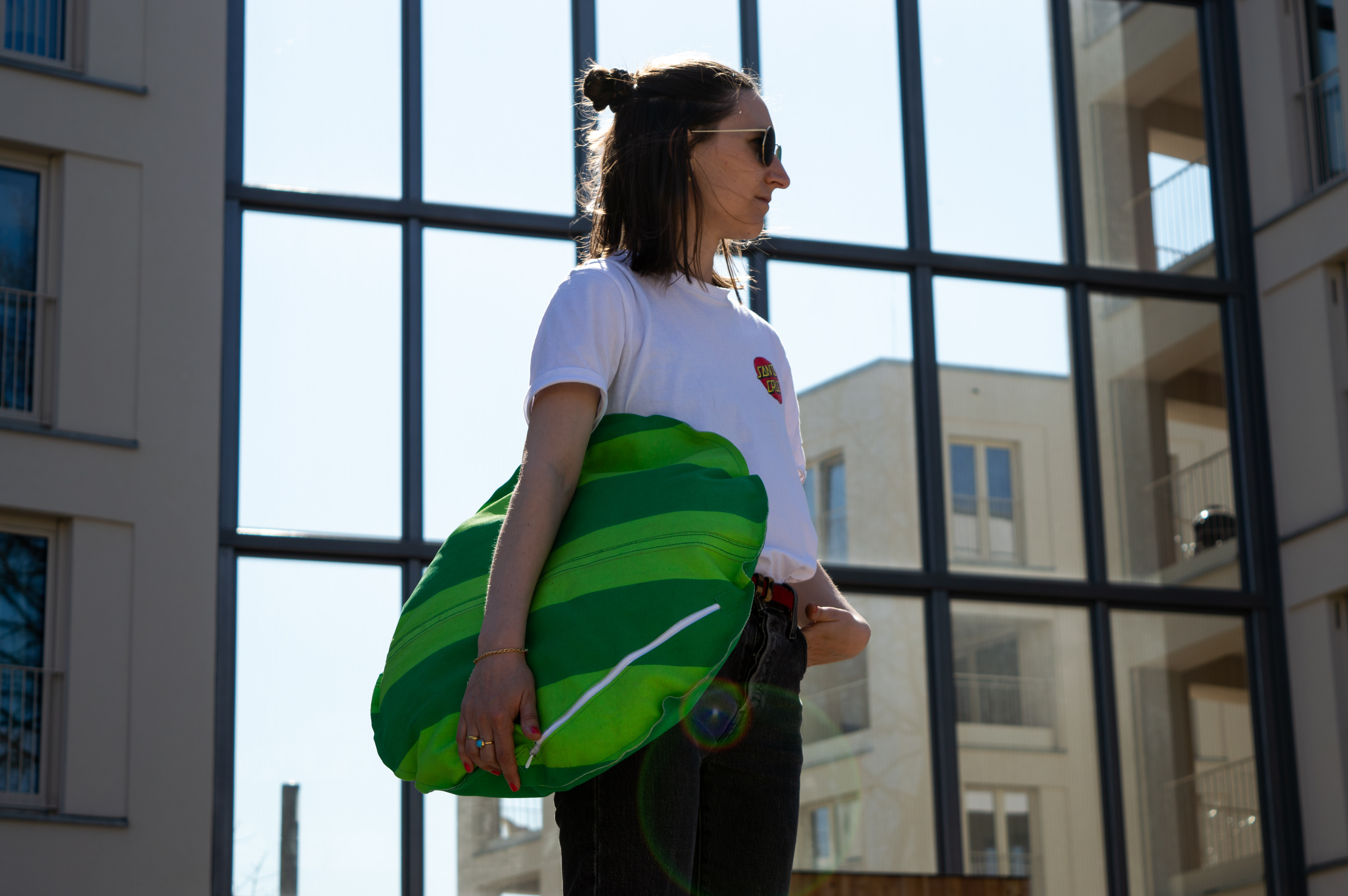 >dimensions<
56cm diameter
800g
limited to 7 pieces
>material<

01 Awning, found on the street.
Penitents, Barcelona, 05/14/21
Robust, tear-resistant, water-repellent, two-tone
02 Kapok Filling, 2nd Hand.
Mangfallplatz, Munich, 06/02/22
Natural fibers, hygienic and water-repellent, extra light
03 Thread and Labels, bought.
Locally and online, 01/10/22 and 03/03/22
>effort and outlay<

Especially young and aspiring designers invest much more time in projects than can be paid for. This is to show how much work goes into each project.
>Real earnings: less than 1,27€ / hour

Invested money
40€ Kapok Filling
8€ Thread, 40€ Labels, 40€ Zipper
66€/year shop

Invested time
5 days product design and prototyping
6 days washing, measuring, cutting, sewing
1 day fotoshoot and editing
6 days graphic design, writings, shop installation..
(not listed: shipping, taxes and law stuff, advertising..)

>investment of 194€ and 144 hours of work.
>price per piece: 54€ + shipping